1960s.
Our story starts on May 17, 1968 when we were founded as Dynoptic Corporation in St. Petersburg, Florida by John W. Payne and a group of associates. Before starting Dynoptic Corporation, Mr. Payne worked for Bausch & Lomb as an Industrial Engineer for over 10 years in Rochester, NY and later became an Executive Vice President of Optic, Inc. based in Dallas, TX. Optic, Inc. was a joint venture between Bill Benedict and Dr. Stanley Pearle, where John had the unique opportunity to work with and train under two of the visionary minds in the optical industry. The initial concept under which Dynoptic Corporation was established, and operates today, are rapid service, competitive prices, and top quality.
Our founders are (left to right) Ed Cook, Ray Luke, John W. Payne, Don Caldwell, and Fred Haag.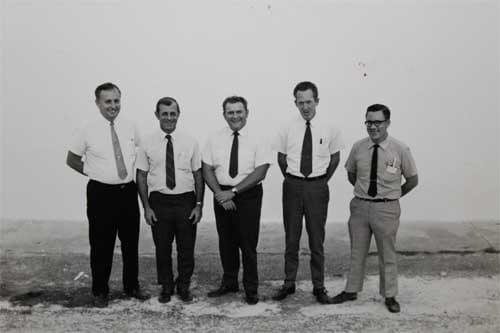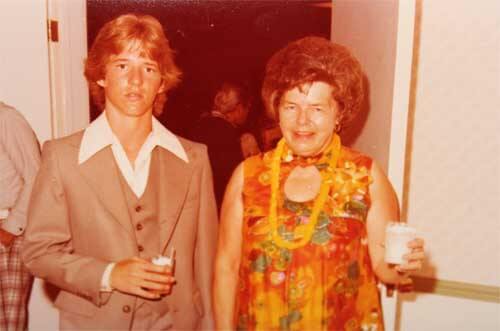 1970s.
With continued growth and success, in 1977, Dynoptic Corporation underwent a large expansion and was transitioned to ICARE Industries, Inc. as a holding company for several network laboratories located in St. Petersburg and Orlando, Florida; Holbrook, Massachusetts; and Tempe, Arizona.
This picture shows Skip Payne and his mother, Jeanne (John. W Payne's wife), at a one of many company parties we've had throughout the years in celebration of milestones, holidays, and general company-wide success.
1980s.
In order to better serve our 14 divisions covering five states, in 1987, ICARE Industries, Inc. established a new 36,000 sqft. corporate headquarters to better serve our employees and customers by housing all corporate operations and a customer service center under one roof, which is still used today for the same purposes.
This building, along with our lab and other facilities, total in excess of 70,000 sqft, allowing IcareLabs to offer superior service to customers nationwide.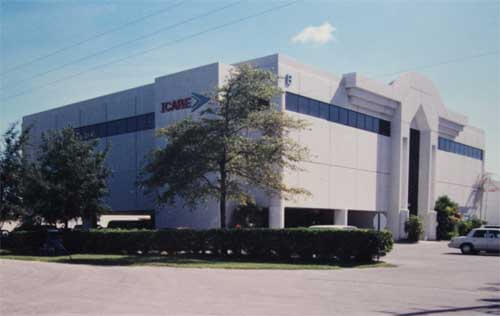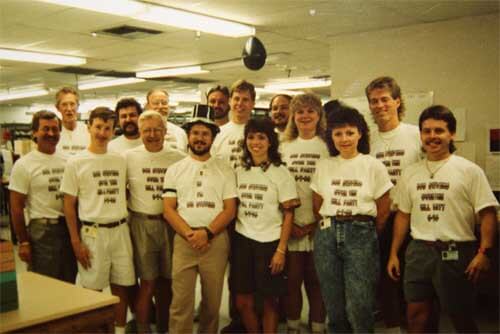 1990s.
The '90s was a hard decade for ICARE Industries, Inc. but we endured and came out better on the other side. We consolidated other branches throughout the country to the main headquarters in St. Petersburg because overnight shipping became too expensive combined with the start of new large scale opticals focused on quick turnarounds. The consolidation enabled us to focus on new product development and lab improvements.
The late 90s became a period of transition as the second generation of Paynes began to take over more responsibilities as we prepared to enter the new millennium. New plans were put in place to restructure leadership, improve our accounts receivable process, and get back to our roots of focusing on the big picture.
2000s.
Our founder, John W. Payne, passed away in January 2000. This is when his sons, Scott and Skip, officially took over leadership of ICARE Industries, Inc.
The name we currently use, IcareLabs, was created in 2003 to consolidate a few of the other marketing brand names we had been operating under such as Dynoptic, Lensworld, and Ram Optical. IcareLabs was carefully chosen to signify our commitment to our customers and helping them grow their businesses.
During this decade, we continued efforts to get back to our roots by focusing on customer service and streamlining our management teams. We also took giant steps for the future with the installation of our digital processing and in-house AR facility. With the internet and technology growing rapidly, we introduced online ordering to better serve our customers, which also allowed us to implement other technological advancements in the manufacturing lab.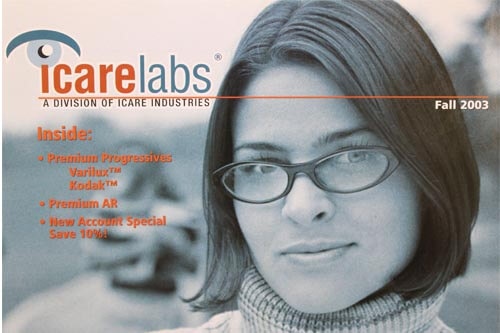 2010s.
For many years, IcareLabs was part of Essilor's Independent Distribution Division (IDD), which provided valuable resources allowing us to grow and build a state of the art anti-reflective (AR) lab. IcareLabs was recognized as the IDD Lab of the Year in 2013 and 2015.
In 2016, IcareLabs furthered our relationship with Essilor by becoming a Partner Lab. Partnering with Essilor has provided the support of the industry's leading lens manufacturer, while allowing us to maintain a family-run company and provide our customers with the levels of quality and service they have come to know and love. We have been recognized as the Partner Lab of the Year in 2017 and 2018.
Most exciting, though, was in 2018 when IcareLabs celebrated a very large milestone of 50 years in business! We celebrated an entire week including an open house and a VIP Reception for long-time employees and key individuals from the past.
2020s.
While we are in the very beginning stages of the 2020s, this decade, so far, has given us much to be thankful for as we have adapted and continue to endure impacts of COVID-19. We have been able to figure out ways to continue operations and provide for our employees and customers alike while implementing physical distancing and expanded cleanliness protocols in our lab.
In addition, 2020 was the year in which the third generation of Payne family began to gain more leadership in our organization as we plan for future success and continued growth of IcareLabs.